New painting by Tatiana Iliina
- commem-orating a "monu-mental" birthday...
...a special painting for a special woman...
...Originally I had in mind to call this painting "aerial tricks" - just the imagery brings to mind some airplanes skywriting or some kind of fabrics that the Cirque du Soleil might send billowing above a rapt audience...
...but recently I have been reflecting on the career of the brilliant team of Christo and Jeanne-Claude, which unfortunately came to an end (in some sense) with Jeanne-Claude's passing last November. As I was originally trained as a monumental artist, I have great appreciation for other artists who have worked in this field.
... ...and suddenly I realized that I was just preparing to release this painting today, Jeanne-Claude's (and Christo's) birthday...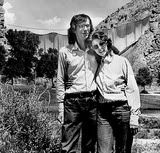 (LA Time photo 1972 - Christo and Jeanne-Claude at Valley Curtain)
...so at a certain moment it just all came together- my admiration for Jeanne-Claude and her work, the
imagery of this particular painting, the ideas of fabric and flowing and billowing and the monumental gesture, combined with the special significance of today's date...
(Wikipedia - The Gates, Central Park, NYC, 2005)
...so I decided to paint the painting on the back also, to give the "wrapped" effect... ...and it all converged into this dedication and small moment of celebration..."
Please be sure to visit the
Christo & Jeanne Claude website
. There is an
exceptional video
in memorial to Jeanne-Claude. The first hour is made of up of eulogies and chamber music which is presented in a suitably sombre manner but the final 30 minutes of the film is just wonderful, with behind-the-scenes glimpses of the entire career of Christo & Jeanne-Claude.
-Tatiana Iliina & offroad artist