Co2-Art presents an new work by Tatiana Iliina and a new series of eco art.
Tatiana's collectors already know that her eco series never fail to be popular. Over the past couple of years her abstract and surrealistic eco series have generated interest worldwide. Her Glaciers Gone series has sold 17 original works worldwide, from South Africa to Indiana... From British Columbia to Boston.
Her new surreal cities series, exploring the concept that perhaps now only artists have the power to conceive and create sustainable habitats for humanity, have sold to galleries and collectors in Europe, Norway, the U.S. and Canada.
And now the daring and tantalizingly beautiful "After the Deluge" series addresses the ominous idea of flooded cities resulting from melting ice caps.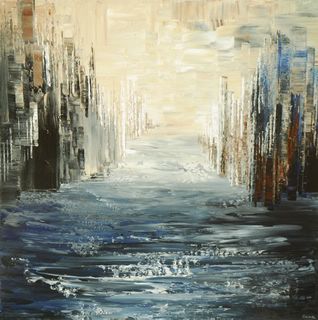 This painting is entitled
"Crash of Breakers",
a Tatiana Iliina original presented by Co2 Art. Eco Art for the Ages.