Richmond Fossil

- a tribute to 1 billion gallons of toxic coal sludge spewn into the environment on Dec. 22 08.
Co2 Art presents a new abstract work by Tatiana Iliina. This is a new installment in Tatiana's "Smoke & Steel" series of Eco Art. This abstract painting measures 30" x 36, is painted with a palette knife, and can be viewed for a limited time at the link on the right marked "marketplace".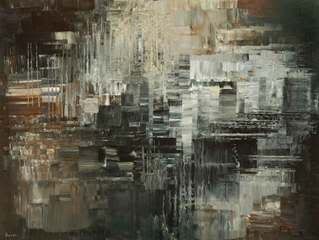 Tatiana Iliina has several series of Eco Art that are enjoyed by collectors and art lovers throughout the world. These series include: Glaciers Gone, Rain Forest, Grand Canyon, Rising Waters and "Wet Brush - Wet Paint - Wetlands," acknowledging various ecological crises including global warming across the planet.
The unique quality of these paintings is that they may address a sombre topic, however they are visually compelling and possess a vitality that indeed celebrates the natural wonders of our planet.